Eating for a speedy recovery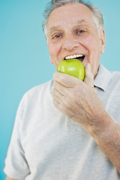 Dr. Jazrawi is quoted in this article by Colleen Canney that gives readers helpful tips towards eating foods that speed recovery for certain types of injuries.
"Maybe you're sporting some serious road rash from a bike crash. Or you twisted your ankle fighting for that soccer ball. For whatever reason, you're sidelined with an injury -- and it's driving you crazy. Oh yeah, we know the feeling. To jump-start the healing process, make the grocery store your next stop: Research shows that certain nutrients help repair bones, tissue and ligaments more quickly. But some foods are better than others at healing particular injuries. Use this guide to eat right based on your bang-up, and get back in the game ASAP"
Click to read the article:
Eating for a speedy recovery